After solidifying its lead in the high end with the GeForce GTX 980 Ti and GeForce Titan X , Nvidia has turned its attention to the opposite end of the market and released the GeForce GTX 950. Unlike its bigger siblings, this one is aimed at the mass market which doesn't expect to push current-day games at high resolutions or with all the quality sliders pushed to the max. The target audience for this GPU is basically the gamer who wants to step up from integrated graphics and be able to run current at reasonable settings.
While the big guns do tend to get a lot of attention, this is the market segment that sees the most action. Unfortunately, it's crowded with old models and new ones are often difficult to find. Retailers both online and offline have plenty of models – some over four years old – listed at their original introductory prices. Buyers need to be careful and do a little research: Nvidia's current products are named GeForce GTX 9xx and its previous generation was the GTX 7xx series. AMD fans should look for Radeon Rx-3xx series cards or the previous Rx-2xx series, but not the older Radeon 7xxx or 6xxx models.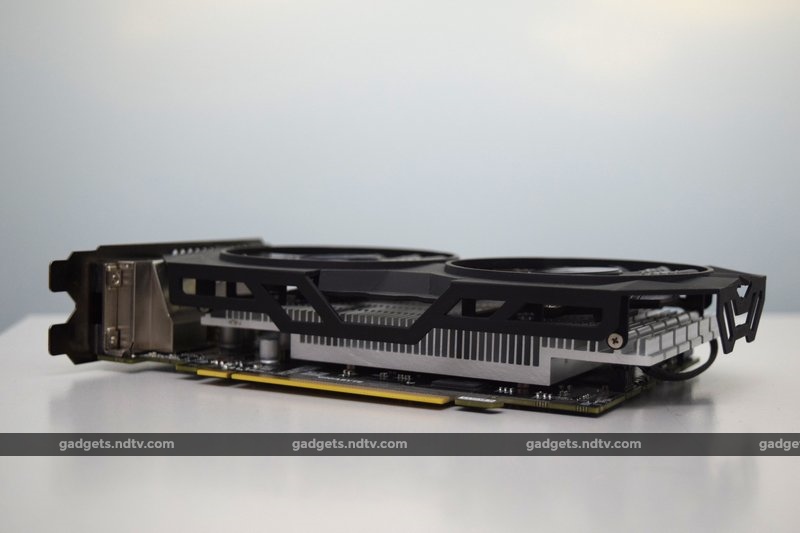 The way things work in the industry, a buyer can easily expect significant performance increases at the same price level with every generation that passes. In recent years, there has also been a huge emphasis on power efficiency. DirectX 12 support will matter a lot for games coming out this year too. AMD is slightly worse-off in this regard right now; most of its current cards are minor refreshes of older ones it's been pushing for years now. Nvidia wants to capitalise on all of this with its new GeForce GTX 950 GPU, for those whose primary concern is cost.
The GeForce GTX 950
The GeForce GTX 950 replaces the previous-generation GeForce GTX 750 Ti, one of the year's most popular cards thanks to its incredible price-performance proposition. The GTX 750 Ti and its slightly slower sibling, the GTX 750, were the first cards to launch on Nvidia's Maxwell architecture which has had a fantastic run since then. Maxwell-based cards are the coolest and least power-hungry in many, many years – in fact Maxwell has totally changed our expectations about how graphics cards at all levels should operate.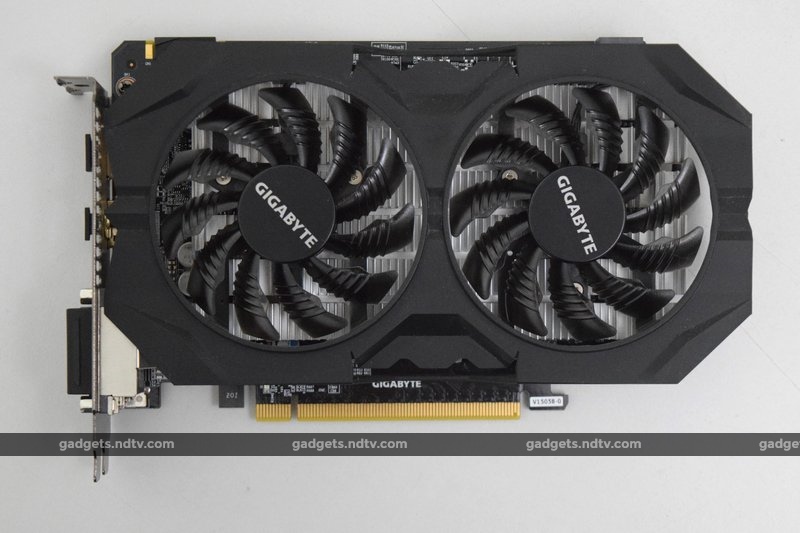 Now, we see further refinement with GeForce GTX 950, based on second-generation Maxwell. In fact this is the same GM206 GPU we've already seen as the GeForce GTX 960 , just with some of its functions and bandwidth curtailed. Two of its eight arrays of execution units (which Nvidia calls "stream processors") have been disabled, for a total of 768 functional units as opposed to 1024. The clock speed varies between its base of 1024MHz and peak 1188MHz, which are also slight reductions compared to the GTX 960.
There's still 2GB of GDDR5 RAM on the same 128-bit memory bus. More interestingly, the peak power draw is down to just 90W. That means you should be able to get away with a very conservative power supply unit, and heat dissipation should be no problem at all even in the tight confines of a small-form-factor build.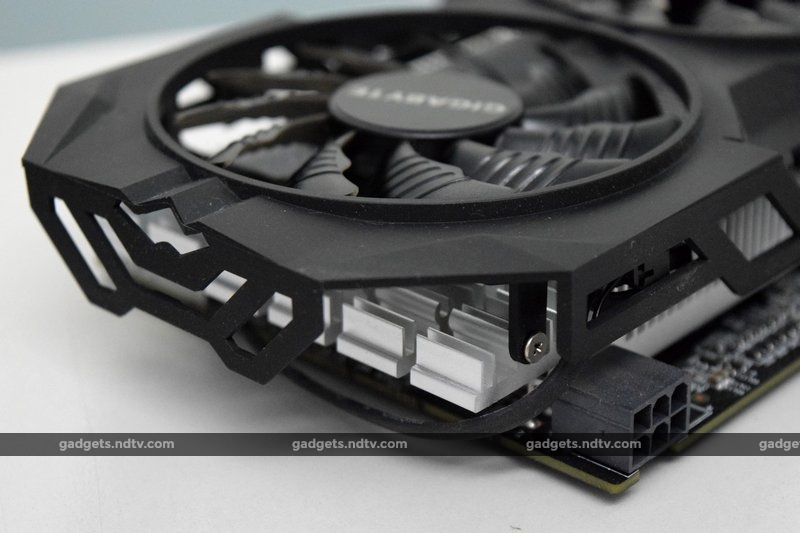 Other points of interest include hardware H.265 video decoding, DirextX feature level 12.1 support, and HDMI 2.0 which supports 4K output. The GeForce GTX 950 should be able to drive four 4K displays simultaneously. On the software side of things, Nvidia has updated its GeForce Experience platform which allows easy gameplay recording and broadcasting as well as game streaming through a Web browser .
Gigabyte GeForce GTX 950
As expected, Gigabyte's GTX 950 offering is a diminutive card by today's standards. It measures just 208mm in length though it will still occupy two slots internally. It shouldn't have any trouble fitting into a budget PC cabinet though you will need at least a 350W power supply with one single 6-pin PCIe power connector.
This GPU shouldn't require any sort of elaborate cooling system but Gigabyte has still slapped two fans on it, and used its "Windforce" name on the box. This particular model, the GV-N950WF2OC-2GD (rev. 1.0) is actually slightly overclocked, with base and boost speeds set to 1102Mhz and 1279MHz respectively.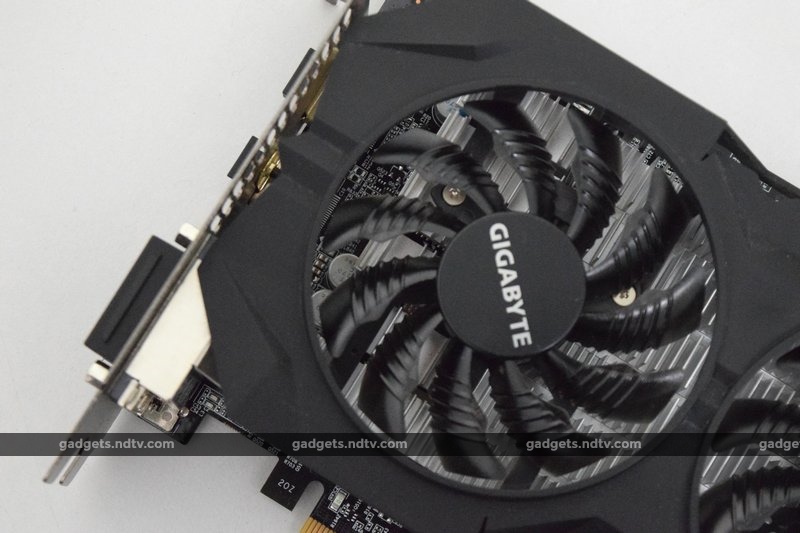 The fans sit in a black plastic shroud that seems more decorative than functional. The aluminium heatsink is extremely simple. Interestingly, while whisper silent even under heavy load, the fans never spin down completely. This is something we've begun seeing even on high-end cards, so we're surprised Gigabyte hasn't found some way to make that happen here.
Around the back, Gigabyte has provided two DVI ports (one of which can be used with an analog adapter), one HDMI 2.0 port, and a single DisplayPort 1.2 output. This probably makes sense for budget buyers with older monitors. Gigabyte ships the card with rubber port stoppers to prevent dust getting in to unused ones, which we really appreciated considering this is a budget card.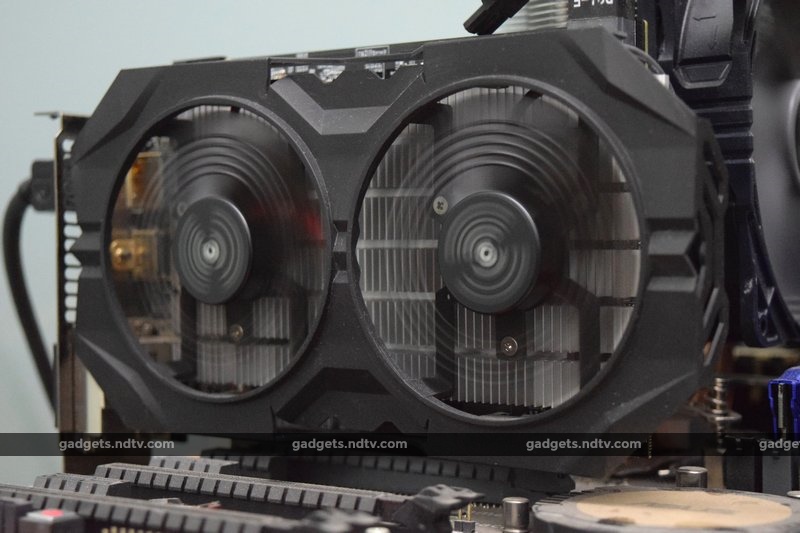 Performance
We plugged our Gigabyte GeForce GTX 950 sample card into a test machine with the following components:
Intel Core i7-4770K CPU at stock speeds
Asus Z97-Pro (Wi-Fi ac) motherboard
8GB of Kingston 1600MHz RAM
120GB Kingston HyperX Fury SSD
Cooler Master Hyper 212X CPU cooler
Corsair RM650 power supply
Dell U2711 1440p monitor
Windows 8.1
The first thing we noticed was how quiet the card was even with both fans spinning. Driver installation was painless and we were up and running in no time. We first ran through a set of synthetic benchmarks which run the card through various modern-day scenes which involve physics and complex effects. First off was 3DMark, which gave us a score of 5,930 overall in the Fire Strike base test, which is optimised for 1080p workloads. We also tried pushing this card with the 1440p Fire Strike Extreme test, which resulted in a score of 3,006 and relatively less smooth video.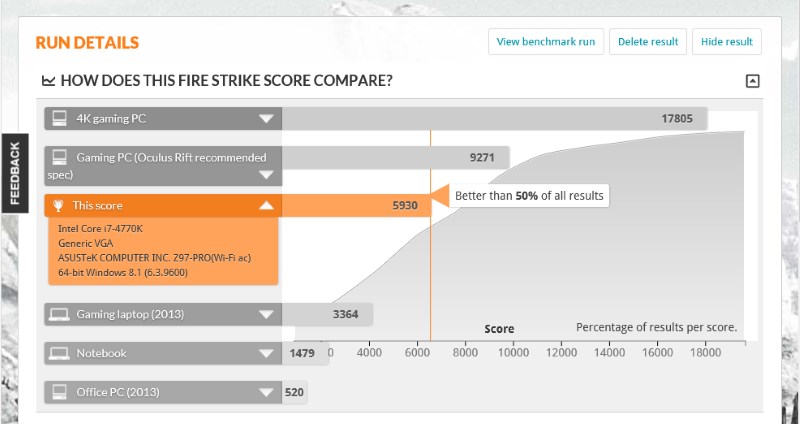 Unigine's Valley benchmark gave us the same impression. A run-through at 1080p with 8xAA and Ultra quality settings looked fine, with an average of 31.7fps but the minimum as low as 18.2fps. At 1440p, the average dipped to 18.8fps which was not much higher than the minimum of 12.4. It's safe to say that we would find games at these settings unplayable. The more intense but less graphically demanding Star Swarm simulation came out with an average of 40.99fps.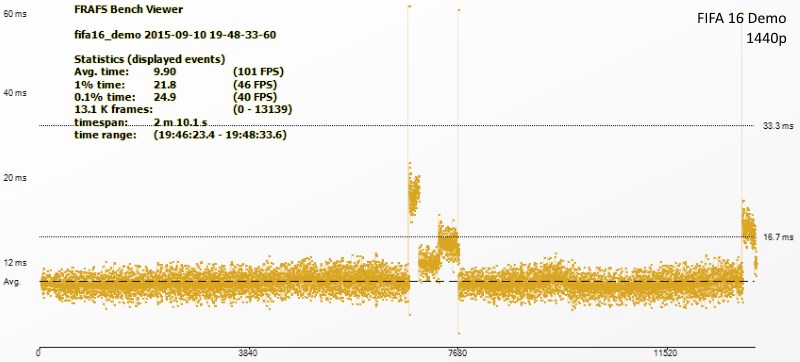 Given its cost and positioning, we targeted the GeForce GTX 950 at 1080p workloads. Starting with the new FIFA 16 demo, which is a good example of current-day casual games, we found that this card not only blew through 1080p but also handled itself very well at 1440p with all settings maxed out. We consistently averaged over 60fps through normal gameplay, indicating that casual gamers will be very happy that they can push all the settings up.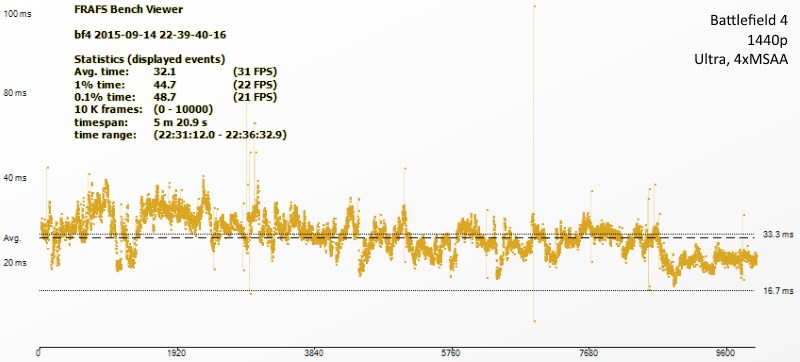 Battlefield 4 manages to look great without demanding excessive hardware, though as we've seen before, it can scale up pretty well when there's headroom. The GeForce GTX 950 also did well enough at 1080p that we tried pushing 1440p. Here, we found that we could squeeze out 31fps on average with 4xMSAA and Ultra quality settings though there were a few stutters. Average frame time was 32.1ms going up to 44.7 for the 99th percentile. That isn't too bad, but we'd go with the smoother frame rates at lower settings.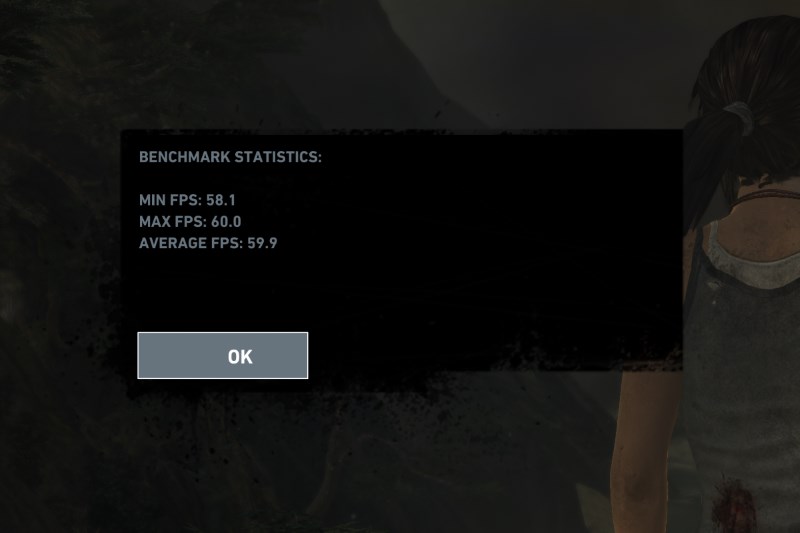 Tomb Raider, one of our favourite titles from a few years ago that still holds up well today, looked great on the GeForce GTX 950. We could turn all settings up to Ultra, with the exception of AMD's optimised TressFX. With triple buffering enabled, the card pushed out a solid 60fps at 1080p, dropping only to 58.1 minimum. At 1440p, it averaged only 34.2fps and never went higher than 42fps. Again, 1080p seems the better choice in terms of the overall experience possible.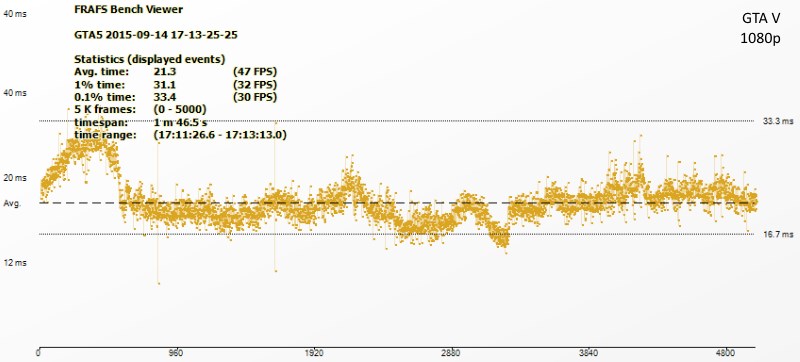 Ramping things up, we found that we really hit a wall with GTA V. Both the GPU's weaknesses and the low 2GB RAM limit made a huge impact on scores here. This is a game with a huge number of settings that can be tweaked in order to balance performance, and strangely the GeForce Experience profile we selected didn't do any good. We had to ramp down to 1080p with most settings at their lowest, disabling anisotropic filtering altogether, before the gameplay was reasonably smooth. That said, it was still quite enjoyable overall. After lots of trial and error, we managed to get up to 47.62fps with most settings at either Normal or Low.
Verdict
Nvidia has managed to pull off quite an impressive budget offering with the GeForce GTX 950 GPU. It offers a little less performance than the GTX 960 for a proportionate price reduction. We hope that prices will go down over time, and without much competition from AMD (whose offerings in this range, particularly the Radeon R7-370, are overpriced and difficult to find) we'd lean quite heavily towards recommending the GTX 950.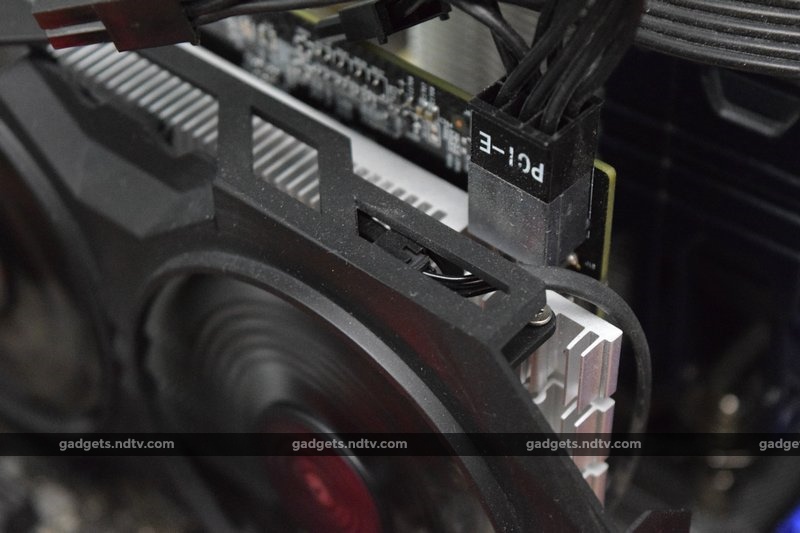 A modest budget might not be your only reason to consider this GPU though – it's well suited to small-form factor builds, especially for a living-room PC or if you only play titles that are light on graphics. There should be models with fans that spin down completely for total silence, and we wouldn't be surprised at all to see passively cooled models down the road.
Gigabyte's take on this card is overpriced compared to Nvidia's recommended price of Rs. 14,490 but then again it is slightly overclocked, very well cooled, and has neat touches such as the dust caps on the ports. The only problem is if you're spending so much on a premium GTX 950 anyway, it shouldn't be so difficult to consider throwing in a tiny fraction more and picking up a GTX 960 instead.